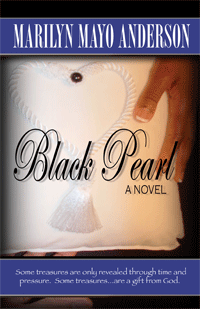 Black Pearl was released in 2008 and is Marilyn's prized first novel. Black Pearl is in it's third printing and has inspired lives across the country. Black Pearl is available at Barnes & Noble.

Synopsis:
Marcus Phillips, an extremely handsome, but somewhat nerdy young man, was focused on his education. He really wanted to be a cardiologist and aspired to be the Christian that his parents raised him to be. His focus on education and his Christian beliefs were all but derailed when he encountered the woman of his dreams. Will he sacrifice his goals and everything he believed in to be with her? Will this modern-day Delilah cause him to forsake his Christian beliefs? His goals?
Shelby Williams was a beautiful, vibrant, outgoing young lady, whose only goal in life was to live for the day. Having been born with a "silver spoon" in her mouth, she had no set goals for life and was accustomed to getting what she wanted. She desired to have Marcus, whatever the cost. Unlike Marcus, she was not a Christian; she didn't really even believe in God. Will she be able to capture and keep his heart, despite the corruptness in hers?
Read the first chapter of this positively infectious novel by clicking here.
(press "page down" on your keyboard when the cover appears)